Security Guard vs. Body Guard: The Similarities and Differences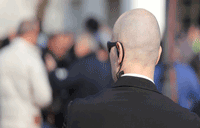 Security guards and body guards are both commonly employed to provide private protections services. Their roles, however, differ. A security guard protects property and people; the people protected are those that are in the physical space that the security guard is responsible for, be it an airport, bank, or power plant. A body guard, on the other hand, is hired to provide personal protection to a particular individual, who may be a governmental figure, celebrity, or wealthy executive. The focus is not on preventing crime but on keeping a particular person (sometimes termed the 'principal') out of the way.
<!- mfunc feat_school ->
<!- /mfunc feat_school ->
In recent years, new roles have emerged that may blend protection of particular people with protection of a physical space or event. When the President comes to lunch, the International Foundation for Protection Officers reminds us, many individuals outside of Secret Service are engaged in planning (http://www.ifpo.org/resource-links/articles-and-reports/crime-prevention-physical-security-training-and-risk-management/).
The term bodyguard is losing favor because it connotes strength and a 'can't get past me' attitude – and because there have been some lawsuits involving those who had little training (save perhaps for martial arts). Even companies that provide personal protection may emphasize that they provide a different type of service or that they provide a comprehensive service. Yes, they provide personal protection agents who travel with executives and stars and who help ensure their physical safety. However, they also provide plenty of strategy and planning. The President has Secret Service. Lesser dignitaries and other members of the rich and famous may have private security companies providing a portfolio of services.
<!- mfunc search_btn -> <!- /mfunc search_btn ->
Bodyguards are sometimes referred to as close protection officers. Other terms include executive protection and VIP protection. There are some differences between executive and celebrity protection. A celebrity may want a very visible presence, able to deter attention as well as harm; an executive, meanwhile, may prefer an invisible presence (http://www.esibodyguardschool.com/#!executive-protection/c1qll).
Personal Security Careers
Some positions are out of reach without a military or police background. Then again, many armed security positions favor those with these backgrounds; companies want professionals who have received extensive training and have also gone through a vetting processing — even when there are no celebrities or high-profile executives. The celebrity aspect can make a position all the more difficult to come by. The goal of traveling at the side of some high profile figure ready to sprint him or her out of harm's way may not be realistic. However, an ordinary citizen can become part of the team that plans for the safety of VIPs and executives.
Executive protection is big business. Oracle has, in the recent past, earned the distinction of being the biggest spender, spending $1.8 million on a single executive in a single year (http://www.professional-bodyguard-training.com/#!The-Cost-of-Security-for-Top-Executives/c1zo4/3A19D70D-899E-46CA-9DCC-3B7ED2AEE2AB). Google, meanwhile, spent more than half a million.
There are many specialized roles within the field. One role is that of advance agent. The advance agent is someone who precedes the principal. It is his or her job to determine what security already exists and scope out the physical territory, from entrances and exits to bathrooms. Other specialized roles include protective intelligence agent, mobile agent, and static agent.
Education and Training
It is possible to complete a certificate program specifically in executive protection. Security degree programs may also offer it as a concentration.
Even a person who does have a police background will likely need additional training for executive protection. This is because the job requires something other than a "prevent crime" mindset and because it has its own skill set. Relevant content areas include intelligence, motorcade planning, ambush recognition, and 'cover and evacuate'.
<!- mfunc search_btn -> <!- /mfunc search_btn ->
A person without a police or military background may need modest goals at the early career stages. Seattle-based Sarka International, which counts event security and executive protection among its specialties, boasts a diverse staff with military, police, and private sector backgrounds (http://sarkaintl.com/executive-protectiton/). Employees may start as unarmed, on-call events security.