Security Guard Training Education Options: Common degree programs for Security Guards to develop their skills and future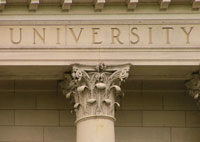 Private security is a field where a degree is not usually an expectation but can be an asset. In some cases, it can compensate for a lack of related work experience. It can help a person to not only get a security officer position but get the specific type of security position they desire. You will also want to decide on unarmed security guard training or armed security guard training. Some sectors — and some employers — set standards high. Being a security officer for a premier medical center takes a skill set beyond what it takes to be a watchperson.
Degrees in criminal justice, public safety, homeland security and emergency management can help a security guard become more familiar with protocols, as well as the criminal justice system.
<!- mfunc search_btn -> <!- /mfunc search_btn ->
<!- mfunc feat_school ->
<!- /mfunc feat_school ->
It can be helpful to examine this skill set. Security officers size up situations and people quickly, determining the most appropriate action. They communicate well verbally and in writing. They understand their role within complex systems and interact effectively with people from diverse backgrounds.
A lot of programs can develop these skills. One company, advertising recently to fill a government position, noted several eligibility avenues. The candidate might qualify on the basis of three years of military or security experience, completion of a Police Officer Standards and Training (POST) course, or 60 semester hours of college coursework. The required field of study? Any.
Virtually all programs will include courses like composition or business writing. Just having the degree can signal to an employer that a person has critical thinking skills. Thus one can select a degree that will support other career options down the line.
Still, some majors are a closer match than others – and some will be of more benefit to those who want to advance. Here is a look at some options.
Degrees in Security, Safety, and Criminal Justice
It is possible to earn a degree specifically in security, though there are not a lot of programs nationwide that offer it. Coursework includes foundations of security, security management, law, and ethics. Students may have the opportunity to select from concentrations such as protective intelligence and corporate security, which offer preparation for particular intended roles. Some schools offer programs in homeland security. Among the topics are intelligence sharing and disaster preparedness.
Criminal justice is a more common degree option and one that security employers frequently mention. Security officers benefit from understanding their role within a larger system. They cooperate with, and communicate with, law enforcement. They work to deter crime. They encounter evidence that must be preserved. Some security officers even have limited powers of arrest – but ultimately they must know their own limits. Typical criminal justice offerings include criminology, court systems, and issues in law and society. Electives may include race and gender aspects of crime, victimology, and juvenile justice.
Occupational safety is a versatile degree for those who are interested in security and safety, but want multiple long-term options. The program may offer relevant coursework to those who seek administrative positions within the security industry. At the administrative level, a professional may be responsible not just for supervising security guards but for managing whole programs focused on safety and security – for example, the hazardous materials program.
Degrees in Social and Behavioral Science
Undergraduate psychology programs are versatile. Strong programs turn out graduates who are well versed in the biological and social bases of human behavior. Courses such as statistics can sharpen analytical thinking. The following courses may prove useful: psychology and the law, social psychology, and abnormal psychology.
<!- mfunc search_btn -> <!- /mfunc search_btn ->
Sociology can give a student a broad foundation in social systems. Another option is public policy.
Communications
Communication is widely recognized as an alternative to violence. A person who studies at the bachelor's level may consider a communications minor. Useful courses might include interpersonal communication, intercultural communication, and applied organizational communication. Some students even have the opportunity to take a course such as 'special topics in communication' and tailor it to their needs.
Program Options
It's not all about the name of the degree. A program may emphasize theoretical or applied learning. Some programs include practical opportunities like internship. Even though interns will likely not be walking a patrol, they will have the opportunity to interact with others in a work setting. They may also come away with references.