How to Become a Security Guard: Starting out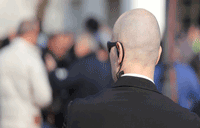 If you have a military or law enforcement background, you may be very attractive to private security company hiring committees. If you don't, you can still break into the industry. Security guards are hired by contract security companies and private businesses. Premier security companies typically do like to see some related experience. You may not be a candidate for GS4 until you have a couple years of successful experience in the industry. Likewise, some private employers — for example, large health centers or financial institutions — won't be an option for a first security position.
<!- mfunc feat_school ->
<!- /mfunc feat_school ->
Your first security guard position will likely be unarmed. You will likely do some customer service. Your employer may be a small company. On the other hand, some large organizations — even the U.S. Transportation Security Administration — will consider individuals without experience if they can make it through their series of in-house assessments.
College can be helpful, not only for attaining a first position, but for advancing within the industry or sector that most interests you.
Some employers value the assessment of past employers even if the work was not directly related. One employer, advertising for building security in Fort Worth, noted simply that the position couldn't be a first job.
College can be helpful, not only for attaining a first position, but for advancing within the industry or sector that most interests you.
The Prerequisite Skills
You may be a candidate for a security officer position if the following apply:
You have a good background. Your pre-hire background check may include more than just criminal background. Employers may scrutinize motor vehicle records and even credit reports.
<!- mfunc search_btn -> <!- /mfunc search_btn ->
You are in good physical shape. You will be on your feet — standing, walking – for hours at a time. Your prospective employer may specify the ability to lift 25 or even 70 lbs.
You have good communication skills. Interpersonal skills are very important but not sufficient; you will also need to write. In some cases, English language skills are assessed formally. The interview is also an opportunity for a prospective employer to gauge communication ability.
You can maintain the right demeanor. Security officers who interact with the public also in the customer service business. They represent the facility to the customer. Their presence alone can be enough to deter. Appearance and attitude are both important. Education and training can help you respond appropriately to challenging situations.
Security Guard Education and Training
College coursework is one of the things that can help you break into the industry. High school graduation represents the typical entry-level minimum. However, many employers seek more. Large hospitals, for example, may favor a candidate who has a degree at the associate's level.
Role-specific training is also important. Many states mandate training in subjects like security guard roles and duties and legal limitations of power. Some states have a licensing process.
You may pursue additional training in order to work in an armed capacity. In some cases, you will need an armed security guard license or pistol permit. Expect to qualify on the range before beginning armed service and at regular intervals thereafter. Some jurisdictions have a specific credentialing process for equipment like baton.
You are not limited to the training your employer provides. Trainings such as non-violent communication are highly valued. You can also pursue security training through a state-approved school or through an organization such as the International Foundation for Protection Officers (http://www.ifpo.org/training/cpo/).
<!- mfunc search_btn -> <!- /mfunc search_btn ->
Once you have accrued experience, you may seek Board certification through ASIS International (https://www.asisonline.org/Certification/Pages/default.aspx).
Future Opportunities
With experience, and the right skill set, you may advance into positions of greater authority. You may end up in charge of other security guards and also of policies and programs. Hospitals and college campuses are among the institutions that have very complex security needs. One day, you may find yourself asking not just "How do I avoid incidents?" but "How does my staff avoid them?"
Security Guard & Security Officer Requirements – Select Your State