Security Guard and Security Officer: What's the Difference?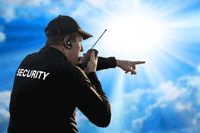 The terms 'security guard' and 'security officer', when used colloquially, may have very different meanings. 'Security guard' is sometimes used to denote a watchperson who occupies a particular post or patrols a limit area but exercises little independent judgment. 'Security officer' may be used to denote a professional who has a wider range of duties and exercises more independent judgment. He or she may have responsibility for supervising multiple security guards and for responding quickly to incidents. The job may involve acting as liaison between services or agencies. Some professionals prefer the term "security officer" because it connotes professionalism and training – and in the modern era, most states do require both.
<!- mfunc feat_school ->
<!- /mfunc feat_school ->
Licensing agencies, however, generally do not make the same distinctions between the terms 'security guard' and 'security officer'. Many use the terms interchangeably. Some prefer a particular term. They may, for example, avoid the word 'officer' out of a fear that citizens will confuse security officers with police officers.
Differing Levels of Responsibility
Licensing agencies often do recognize different levels of responsibility, but they use a different vocabulary. Individuals who are employed to provide security services may be referred to as either guards or officers; some states use the term 'employees' when referencing them. These individuals are often registered as opposed to licensed. There is typically no experience requirement and no requirement for education beyond the high school level; high school graduation is far from a universal requirement.
<!- mfunc search_btn -> <!- /mfunc search_btn ->
Professionals who head security agencies, on the other hand, are typically licensed. If the agency is a corporation (as opposed to a sole proprietor), there must generally be at least one professional who meets an extensive set of requirements. The licensing agency typically requires two to five years of experience in a related role; often the experience must involve a minimum level of responsibility. In some cases, post-secondary education can substitute for at least a portion of the experience. The Board may require prospective licensees to present multiple references. Examination requirements may also be more stringent.
States may use any of various terms for the professional who meets experience and examination requirements. He or she may be the qualifying agent, the representative, or simply the qualifier. Some states use 'officer' or 'manager' in the title.
While the qualifier is a manager, he or she is not necessarily the sole manager. Professionals at lower levels of management may not be licensed. Indeed, an individual may need several years of experience in a managerial, supervisory, or administrative capacity before becoming eligible for licensure as a manager. Some jurisdictions do license managers at multiple levels of responsibility. Oregon, for example, recognizes executive managers and supervisory managers.
Differing levels of responsibility are reflected in state civil service job descriptions.
Regional Differences in Terminology
Some jurisdictions do attach particular meanings to the title 'security officer'. St. Louis, Missouri, for example, places security professionals into fully four categories. Security officers have powers that 'watchmen' do not. Missouri civil service positions also classify security personnel as security guards or security officers. Security officer is the higher classification; officers have additional duties such as coordinating security activities. Officers at the highest levels may have the responsibility of planning security programs.
<!- mfunc search_btn -> <!- /mfunc search_btn ->
In California, the status distinction between the terms 'guard' and 'officer' is less clear. Security guards are authorized to work for security agencies. Proprietary security officers, on the other hand, provide services directly to businesses.
Climbing the Ranks of the Security Industry
There is a geographic element to title usage… and no clear status difference between a security guard and a security officer. However, there are clear status differences from credential to credential and job to job. In order to climb to the higher levels of responsibility, an individual will need successful work experience, and often a higher education level as well.