Cruise Ship Security Officer: Is there any reason not to take your career in this direction?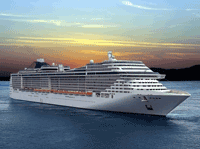 Some security officers perform their duties on cruise ships. Perks – especially for those who are unattached – can be considerable. They include not only seeing the world but also having some time off between trips. Security professionals who work for major cruise lines can avail themselves of on-ship recreation during their off-hours. Some ships have recreational amenities such as rock climbing walls and simulated surfing. The job can be a change of pace – and a professional challenge.
Ship security can be tricky because law enforcement is remote; a vessel is like a small community with no police. A surprising issue: unattended children. It's not uncommon for parents to let children who are barely school-age roam free — and in essence, to leave them under the care of the ship. Cruise ships are commonly regarded as safe places. They have video security systems and security screening procedures much like airports. Passengers generally go through several levels of screening before they are actually on-board. However, serious crimes do occur. Security officers must also be alert to threats coming from outside the ship.
<!- mfunc feat_school ->
<!- /mfunc feat_school ->
Cruise ship security is handled by a team of professionals with differing levels of responsibility. Security guards at the lower levels have duties such as screening passengers, making rounds, and reporting unusual or suspicious activity. Those at the higher levels put together security plans and determine how to respond to incidents of varying levels of seriousness. Security personnel need to be aware that there can be situations so extreme that a person must actually be confined.
Even lead security officers do not act completely on their own in serious situations. They may receive direction from leaders on shore.
Obtaining a Cruise Ship Security Position
Not surprisingly, cruise ships want experienced staff, especially in the higher levels. The highest positions are hard to achieve. The Cruise Lines International Association Public Affairs Director told Fox News that security departments are headed by former law enforcement officers (http://www.foxnews.com/travel/2012/06/27/how-safe-is-your-cruise-ship).
<!- mfunc search_btn -> <!- /mfunc search_btn ->
Unlike state licensing boards, major cruise ships may designate level of authority with the terms 'security guard' and 'security officer'. The words 'chief' and 'lead' may be used to denote those at the top.
The Sun-Sentinel reports that experienced professionals seeking top-level ship security positions face a rigorous selection process, tackling questions about hypothetical maritime situations — and also tackling language tests (http://articles.sun-sentinel.com/fl-cruise-ship-security-20100801_1_security-guards-ship-security-security-leaders).
While some companies like to see some experience even of lower level employees, it's not necessarily required. The Royal Caribbean, for example, recently advertised for both a security officer and a security guard. Requirements for security officer were steep, including a military background and diving certification. Requirements for security guard were far more modest. The person would need to meet physical requirements and would also need to read, write, and speak English.
The company also sought a Senior Situation Management & Intelligence Analyst who had five years of experience in a field such as law enforcement, public service, or intelligence. The professional would need a bachelor's degree in a related field unless experience was directly related.
Employees are not always hired directly by cruise lines. Some contract security companies count ship security among their specialties.
Training and Certification
Ship security is subject to national and international standards. Some requirements apply to a subset of ships, such as those above a certain size.
In recent times, it has become the expectation that people working on non-exempt ships will have some security training, even if they are not hired to work in security. Those who are hired to do security-related tasks may be classified at different levels. Security courses may be listed as being for 'Vessel Personnel with Designated Security Duties' or for 'Vessel/Ship Security Officers' (VS/ SSO).
<!- mfunc search_btn -> <!- /mfunc search_btn ->
Standards for Vessel Security Officers (https://www.law.cornell.edu/cfr/text/33/104.215) and Personnel with Security Duties ( https://www.law.cornell.edu/cfr/text/33/104.220) are described in U.S. code.
The large cruise lines may offer training far beyond what is mandated: yet another perk.