Transportation Security Officer Requirements: How to Become a TSA Officer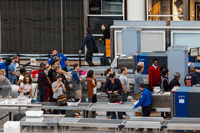 Airports are staffed with security officers who are employed by the federal government. The Transportation Security Administration (TSA) hires for security positions across the nation.
The following are typical Transportation Security Officer (TSO) duties:
Controlling access points
Running equipment to screen baggage, cargo, and passengers
Searching baggage
Doing pat-downs as necessary
<!- mfunc feat_school ->
<!- /mfunc feat_school ->
Airport security officers also interact with the public: giving reassurance about security checkpoint procedures and providing directions to lost travelers. They will come face-to-face with a variety of travelers – including cats and dogs. The Department of Homeland Security has provided a video to give potential TSOs an expectation of the job (http://www.realisticjobpreview.net/tsa_final.htm).
Educational Expectations
A security officer may achieve the position with education at the level of high school graduation, provided that he or she can successfully complete a multi-step assessment process. The hiring agency may hire individuals with education below this level provided that they have sufficient related experience.
Prospective TSOs should be aware, though, that potential hires are ranked as qualified, highly qualified and best qualified. An individual who is qualified satisfies all qualifications at at least a minimal level. An applicant may need to be more qualified than many other applicants who meet minimum standards.
<!- mfunc search_btn -> <!- /mfunc search_btn ->
The agency also hires for specialized positions where a person will need college education and/ or prior experience in a position of responsibility performing similar duties.
The TSO Hiring Process
The first assessment that a potential TSO will complete is computer-delivered. It tests English language ability as well as ability to read x-rays (https://www.tsa.gov/about). Candidates must be able to identify the objects represented.
Those who pass the initial assessment may be scheduled for other assessments, including a color vision test, structured interview, and drug screening. Before hire, a candidate will have a medical evaluation, to include hearing, vision, and joint mobility. Prospective TSOs should be aware that they not only screen luggage – they lift it. The expectation is that a person can lift and carry up to 70 lbs. A security officer will also need the ability to stand for as many as three or four hours at a stretch.
A candidate must satisfy the U.S. government that he or she merits public trust. The government will conduct a comprehensive background check, considering financial background as well as criminal history. A candidate could be disqualified for being delinquent on taxes or having defaulted on large loans.
A conditional offer may be extended at more than one point along the way.
Because pat-downs are among the duties, the hiring agency may employ gender preference when filling a position. Some positions may be advertised as female only or male only. Sometimes, though, a number of positions are filled at the same airport during the same hiring period.
Post-Hire: Training, Benefits, and Advancement
The Department of Homeland Security provides extensive training. A new hire may need to travel beyond his or her local airport for two or more weeks. He or she will also spend some training time at the airport, shadowing a more experienced professional.
As governmental employees, TSA workers receive a competitive benefits package, which can include not only basic health insurance but extras like long-term care. The hiring agency notes that there is also a thrift savings plan similar to a 401(K). Some employees may be eligible for additional benefits such as tuition reimbursement.
<!- mfunc search_btn -> <!- /mfunc search_btn ->
Advancement represents yet another perk. Successful TSOs can progress to management level positions.
Related Security Positions
The TSA also employs security specialists in a number of specialized positions. One example is explosive detection canine handler (https://www.usajobs.gov/GetJob/ViewDetails/428175000). The expectation is for three years of progressively responsible experience, a degree at the bachelor's level or higher, or some combination of education and experience that is at least equal. Applicants submit resumes, describing how their experience and/ or education have offered preparation for the job role. The hiring process includes a writing assessment. Hires receive several months of training.