Becoming a Security Officer in a Bank: From hiring expectations to career advancement opportunities, you will want to read this one.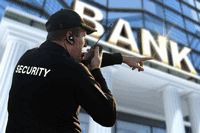 Banks hire plenty of security professionals: protecting cash and assets, protecting the safety of bank employees, safeguarding critical information, and providing general security and safety services for their largest complexes.
One person can't do it all. Financial institutions hire security professionals in multiple capacities. An individual involved in physical security may have job duties and qualifications that are comparable to those of other security officers outside the banking industry. In some cases, though, the security officer will be armed — this typically means that standards will be a little above the norm.
<!- mfunc feat_school ->
<!- /mfunc feat_school ->
Some financial security professionals take on administrative roles. They may control security devices, provide training, and act as liaisons with law enforcement. The Federal Deposit Insurance Corporation sets some standards for bank security – and bank security.
Some bank security professionals are employed as information security officers. Though the name is similar, there is a significantly different focus.
<!- mfunc search_btn -> <!- /mfunc search_btn ->
A bank security job can be a true career. One advantage: benefits. Another advantage to being part of the security staff of a large financial institution is the training. Security officers generally won't be expected to figure out protocols on their own — though it is always possible that they will face situations that were not part of their training.
A bank security officer may be hired directly by the financial company or may be hired by a contract security company. Either way, standards will be high. Those who choose private security as a career can generally expect that their first security job will not be for a large bank (unless they have prior experience in the military or law enforcement). Character and aptitude are important – but so is vetting.
Hiring Expectations
The following is a sampling of job requirements for security-related positions with U.S. financial institutions:
Wells Fargo is one of the largest financial services companies, boasting $1.3 trillion in assets. The company employs armed security guards at bank vaults. An individual employed as a 'Security Officer I' is expected to have at least six months of experience. Desired qualifications include CCTV monitor and access control experience and CPR/ first aid certification. Wells Fargo also notes a preference for candidates who meet requirements for armed security guard licensure. Desired traits include multitasking ability and excellent communication skills.
G4S is another industry leader, though of a different type. It is a large security company that provides contract services in many industries, including banking. Among the typical requirements for Bank Protection Security Officer are a year of prior security guard, law enforcement, or military experience. Skills include the ability to identify key issues quickly and communicate very well. G4S notes that the background check will be extensive and will include motor vehicle records and credit history, if applicable. The agency also requires a drug test. A candidate who has received a conditional offer will need to clear a physical examination and pass a reliability assessment test and personality test. The Minnesota Multiphasic Personality Inventory (MMPI) is the personality test utilized.
Huntington Bancshares, a smaller regional bank, requires a Security Operations Specialist to have one to three years of prior professional experience, but will consider a range of positions, including call center and computer systems work. This particular position includes a mixture of physical security (for example, monitoring of alarms) and basic computer/ systems work.
<!- mfunc search_btn -> <!- /mfunc search_btn ->
Managerial level bank security positions may set educational requirements high. PNC Bank lists a college degree as a typical part of the process of satisfying requirements for Bank Physical Security Specialist, though other combinations of education and experience can be considered. Competencies include premises security, security management, employee health and safety, data gathering, and effective communication, among others.
Professional Certifications
Some professionals seek professional certification to hone their industry-specific skills. The Certified Financial Services Security Professional (CFSSP) credential is for professionals who either manage or execute physical security (http://www.banktrainingcenter.com/CFSSP.asp). Among the topics tested are the Bank Protection Act, security systems, emergency response, and investigations. A candidate must already be employed by a financial institution as a security officer or other security professional. The amount of experience required depends on educational level.