Armored Car Guard: This may be the field for you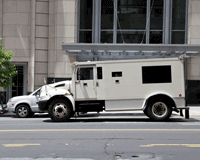 One frequent use of armored car guards, or couriers, is keeping ATMs stocked with cash. Armored car services may, however, be contracted by many types of organizations — even schools — when they find themselves with more money or valuables than they feel comfortable transporting in the usual way.
Armored car staff often work in teams. One person drives while one or two others are responsible for making the deliveries.
Armored car guards are often armed but this is not universal.
Minimum standards will vary, depending in part on one's role within the operation.
<!- mfunc feat_school ->
<!- /mfunc feat_school ->
The Armored Car Industry
The U.S. armored car business is dominated by several major companies, though there are many small ones. Among the major companies are Brink's Incorporated, Dunbar Armored, Inc., Garda Cash Logistics, and Loomis (http://www.nationalarmoredcar.org/about/). Together these organizations make up the National Armored Car Association, an organization that goes back to 1929. One focus is safety.
Armored Car Job Risks
There are, potentially, two pieces of equipment that make the armored courier service a little riskier than the average security guard position: a gun and a vehicle.
Whatever impression one gets from the movies, some believe that the real danger is not robbers but unsafe driving conditions. It is harder to drive a security van than an ordinary car. What's more, the armored courier business may not be subject to scrutiny on a par with that of the trucking industry. Couriers are at a higher risk if they're carrying more weight than their equipment is rated for or if their cargo isn't secured properly. The Texas Observer tells the story of an armored guard who had spent his life around guns but was ultimately killed in an armored vehicle accident (http://www.texasobserver.org/armored-car-industry-safety-too-heavy-to-bear). An investigation turned up multiple violations. The vehicle was not intended to carry such a heavy load.
<!- mfunc search_btn -> <!- /mfunc search_btn ->
Crime of course carries some risk. Working in an armored vehicle is different than working in a bank. There are often fewer people around and bills are less likely to be marked. These are among the conditions that can make armored car robberies attractive to criminals, at least the more calculating ones. Lowers & Associates International Risk Mitigation Partners have compiled an armored car crime report consisting of new reports from many sources (http://www.lowersrisk.com/resources/armored-car-crime-report.php). Most months, several robberies are reported.
Employer Expectations
The minimum age for an armed courier position is generally 21.
A driver may need a Commercial Driver's License (CDL).
A good background is important. A candidate may be expected to qualify for various authorizations, including a gun permit and Federal Reserve access.
Dunbar Armored Inc. has put together a video for prospective hires (http://www.jobs.net/jobs/dunbararmored/en-us/search/Driver-Guard-Careers/STKF37G64D9670M4V1NM/). Candidates may have experience in any of three areas: armed forces, truck driving, or private security.
Legal Requirements for Employment
Armored car courier can be considered a security guard specialty or its own unique discipline. The National Armored Car Association reports that both the International Association of Chiefs of Police (IACP) and the American Society for Industrial Security (ASIS International) have recommended that armored car employees be subject to different selection and training requirements than security guards (http://www.nationalarmoredcar.org/guard-safety-training).
<!- mfunc search_btn -> <!- /mfunc search_btn ->
Legal standards vary. In most jurisdictions, armored car guards work under a state certification, registration, or license. In many cases, they are registered as armed security guards or officers. Some states recognize armored courier as a unique discipline. Titles vary, as do requirements. New York State, for example, licenses Armored Car Guards (http://www.dos.ny.gov/licensing/armoredguard/armoredguard.html). The licensing agency states that the armored car guard registration mandates apply to armored car guards who have access to weapons but not to drivers or other accompanying employees who are not authorized to access them. New York armored car guards complete a 47-hour firearms training program.Utah licenses Armored Car Security Officers (http://www.dopl.utah.gov/licensing/security_companies_guards.html). Again firearms is part of the training.